Sunshine Smoothie Recipe
Most of us do not get enough Vitamin D during every day life. Working indoors, working out indoors, watching TV indoors…the list goes on. Some of us don't live in places that get a lot of sunshine. There are so many reasons why we may be deficient in Vitamin D, but the solution remains the same: supplements. Thousands of supplement brands exist, so how do you know who to trust? Our liquid vitamins have thousands of real reviews, from real customers. People can feel the difference our liquid vitamins make for them – and many of them have proof in their bloodwork with healthcare professionals. If you take a Liquid Vitamin D supplement and your levels don't increase on your bloodwork – something is wrong. You're taking something every single day, so there needs to be some kind of improvement. With our unflavored liquid Vitamin D3+K2, you will see a difference and more than likely, feel a difference.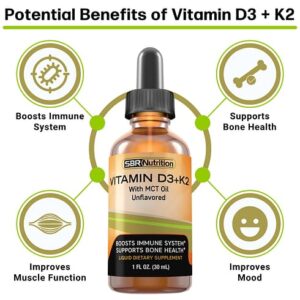 Low levels of vitamin D in the body can lead to issues like depression, fatigue, irritability, and more. If it's time to up your intake of this fantastic and essential vitamin, consider using a liquid version, like ours. It's very easy to either take the vitamin by mouth, or you can even add it to your smoothie recipes! We have a really great Sunshine Smoothie Recipe that may help up your intake of Vitamin D. I'd say it's more fun than just taking it by itself!
Ingredients
1/4 cup Orange Juice
1/4 cup Ice
1 Banana
1/4 cup Mango, diced
A few chunks of Pineapple
1 serving Unflavored Liquid Vitamin D3+K2
To make this smoothie, simply blend all of your ingredients together, and enjoy! It's a great simple smoothie to make when you're short on time, and ready to get going. This Sunshine Smoothie Recipe is great, but you can also add your unflavored liquid vitamin D3+K2 to any smoothie, tea, or coffee and enjoy it that way. That's the beauty of liquid vitamins – they're so easy to take!
Our liquid vitamin D supplements have no gluten, sugar, milk, salt, or yeast. There are no extra unneeded fillers or additives. We provide high quality liquid vitamins at an affordable price, without all the extra stuff. There is a 90 day money back guarantee, so you can be sure that trying our vitamins is worth it and risk free. Say no to GMO's, fillers, sugars, and wheat in vitamins!